---
For a copy of the current monthly menu listed alphabetically by city please click here:
Winter is here! There may be closures due to the weather. A good rule of thumb is that if there is no school in your area, there will not be Senior Meals that day. We do our very best to get the word out via radio, Facebook and telephone. Some home delivered meal service may be disrupted by bad roads, unplowed driveways, etc. Call 509-826-7979 if you have any questions on meal service.

Like many employers, we are experiencing a severe staffing shortage at this time. Several meal sites are temporarily closed or on a restricted schedule pending staffing. Please call 509-826-7979 for information

Beginning May 9, 2022 pick up/take out meals are no longer an option. Please join us at your local Senior Meal Site and enjoy a nice meal. Home delivered meals are available for individuals that qualify. Please call 509-826-7979 for more information.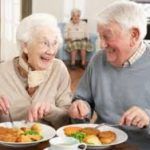 ---
Comidas Mayores En Espanol:
Previous Menus