Senior meals during Covid-19
---
For a copy of the current monthly menu listed alphabetically by city please click here:
Like many employers, we are experiencing a severe staffing shortage at this time. Several meal sites are temporarily closed or on a restricted schedule pending staffing. Please call 509-826-7979 for information

Beginning December 1st 2021 in house, congregate dining will be available. Take out meals remain an option if requested. Please call your meal site to reserve meals and arrange a pick up time.

Brewster Senior Center is currently serving meals via home delivery only on Tuesday, Wednesday and Friday. Please call 509-826-7979 to reserve your meals. 

The Manson site remains closed until further notice. Davenport site is closed until further notice.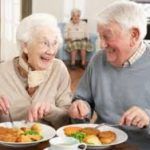 ---
Previous Menus
Comidas Mayores En Espanol: